We had an awesome day! Ashley had a field trip to go on for school. It was a discovering math/science type field trip. Ashley said it was more like career day but she had fun. She had to be at her school at 6:30 so Aaron dropped her off. We got the babies all dressed up in their Easter outfits so that we could go see the Easter bunny. Around 10 we headed to the park for the children's Easter social. It was such a beautiful day I wanted to stay outside all day. The bunny came hopping down the bunny trail around 10:30. We stood in line and anxiously awaited our turn with the bunny. They did so well and they were so cute. The bunny's eyes are a bit scary looking but aside from that he is pretty cute.
After the bunny visit we headed to my sister's to help her paint. I love
painting
so of course I had fun. Aaron on the other hand had the job of painting doors. He milked that job for as long as he could.
We went and picked up Ash, headed home and cooked chili.
Here are some pictures of our day.
Don't forget pics are

clickable

.
Don't they look excited to meet the Easter bunny?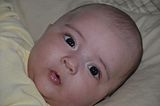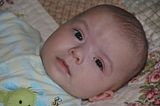 All dressed and ready to go.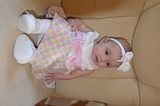 Finally we meet him.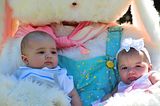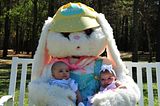 It was just one of those days I absolutely love.